CONGRATULATIONS KATHRYN
27 July 2022, ALTONA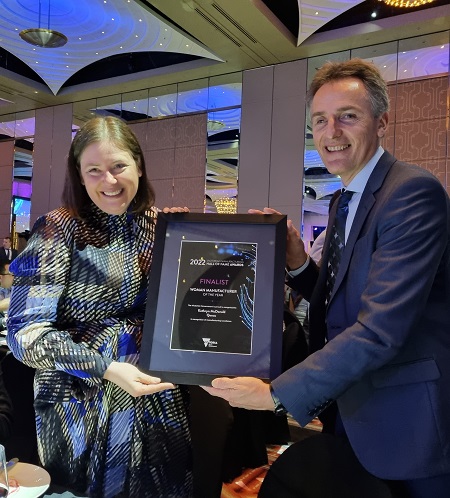 Kathryn McDonald with her Finalist award being congratulated by Andrew Lake, Gen Manager Operations at Qenos
Qenos warmly congratulates Kathryn McDonald for her outstanding engineering career and for being named as one of three finalists in the Victorian Manufacturing Hall of Fame, Woman Manufacturer of the Year category.
Celebrating its 20th anniversary, the Victorian Manufacturing Hall of Fame Awards recognise the achievements of manufacturers across the state and showcase the vital role manufacturing plays in Victoria. This year's theme, 'Made in Victoria', highlights the importance of local manufacturing and the breadth of products, technology and ideas produced in the state.
Kathryn's incredible achievements during her diverse 28 years at Qenos made her a very worthwhile contender for the award, but unfortunately on the night, the Woman Manufacturer of the Year title went to Andrea Del Ciotto of Osteon Medical, another amazing woman achieving great things in manufacturing.
Kathryn is the Engineering & Business Improvement Manager at Altona, responsible for $2bn of manufacturing assets. She leads and manages a professional multi-disciplinary team of highly respected engineers, some of Victoria's best, delivering business improvements across all aspects of plant operations and infrastructure. She has achieved brilliant business results during her outstanding career and has excelled in a male-dominated manufacturing and industrial environment. She enjoys sharing these skills by coaching and mentoring early career engineers and is a strong advocate for encouraging young females into the industry. Above all, she values making a tangible difference at Qenos, and in the broader industry, as evidenced by her work with Engineers Australia and Chemistry Australia.
The Hon Ben Carroll MP, Minister for Industry Support and Recovery presented the awards and said "Victoria is Australia's manufacturing state and we are backing innovative companies to beat the best in the world. These awards recognise the contribution of our leading manufacturers that are developing new technologies and processes that help to create jobs throughout Victoria. We're continuing to support our manufacturers because we want to expand what is made in Victoria – which will boost our economy."
He is seen below congratulating Kathryn on her achievements and also, surrounded by Kathryn's Qenos support team.