LAUREN HAS HER SIGHTS SET ON HIGHER STANDARDS
01 October 2021, ALTONA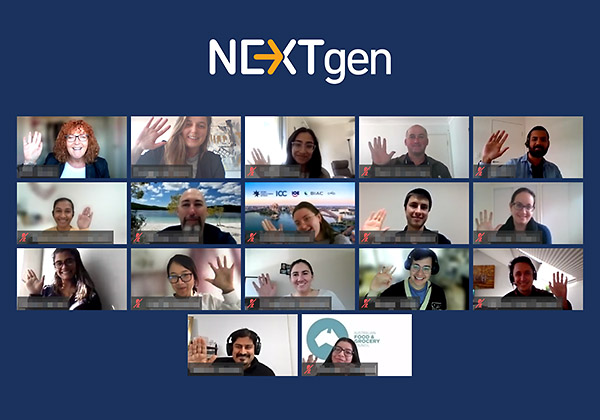 Lauren giving a wave and a smile far right on second line Credit: Standards Australia
Australian standards set out specifications and design procedures to ensure products and services consistently perform safely, reliably and the way they're intended to. Effective standards should be relevant, user-friendly, and provide a net benefit to the Australian community.
Qenos Product Development Technologist, Lauren Mann, understands this concept only too well and given her role in the Product Technology team, Lauren applies these principles on a daily basis.
When the chance of participating in the
Standards Australia NEXTgen
program presented itself, Lauren was extremely pleased to be chosen as one of the few successful candidates from a group of over 100 applicants. In addition to committing to the ten month professional development program, which kicked off in August, all applicants had to answer a series of questions including how their skills and experience relate to standards development and what standards mean to them.
Participant backgrounds are diverse and range from education, mining, government, construction, health, ICT, energy and consumer products. Each participant is paired with a mentor who works at Standards Australia to help further guide them and give them an 'inside perspective'. Lauren is delighted to be partnered with Suba Ananth, a Senior Project Manager at Standards Australia.
"The first three sessions have covered an introduction to standards and their development, roles and responsibilities, and drafting rules. It has been very informative, and I look forward to further developing the knowledge and skills which will allow me to contribute to standards development in the future" said Lauren.
She added "The Standards Australia NEXTgen program offers a unique opportunity to not only learn about the standardization process, but also to observe committee meetings from any field, and at any stage of development."
Comprising of webinars, workshops, and professional development meetings, the program is structured to develop young professionals into future standards contributors and leaders, by enhancing their standards knowledge, developing the necessary skills to become an effective committee member, as well as working on communication skills and personal branding.
"We've been overwhelmed with the quality of applications for this intake and are excited to work with these talented individuals to develop the next generation of standards contributors" said Kim Suter, Learning and Development Facilitator responsible for NEXTgen at Standards Australia.
Now in its fourth year, NEXTgen is targeted at young professionals with industry specific knowledge who are interested in learning how to develop standards, as well as themselves, while sharing their knowledge for the greater good. This year's intake is made up of mostly early to mid-career professionals, with 45% female participation.
Lauren, along with Greg Robb from Botany, also heads up the Qenos 2021 iTransform continuous improvement program. They have been instrumental in driving the Season Six submissions and awards in what has been a challenging year.
Following graduation from NEXTgen in May 2022, Lauren will also have the opportunity to become a future standards contributor and leader. We wish Lauren every success as she takes on an extremely busy year and strives to achieve even higher standards.