QENOS RECEIVES FIVE YEAR MHF LICENCE
29 August 2023, ALTONA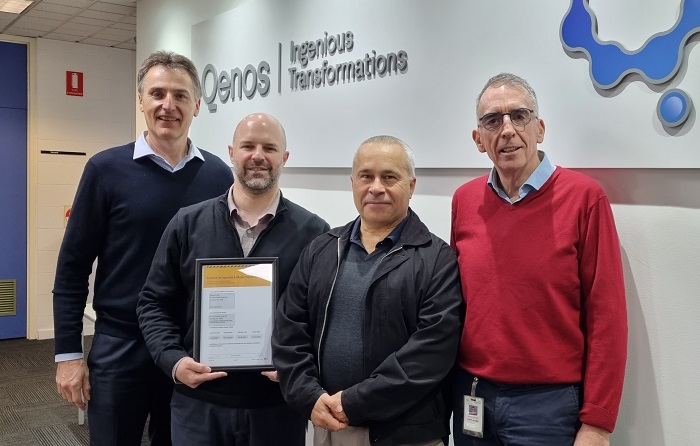 L-R Andrew Lake, Stuart Hodgson, Peter Grosskopf and Stephen Bell
Qenos has been granted a full five (5) year Licence to Operate a Major Hazard Facility across all its Altona sites. This significant achievement reflects the whole organisation's involvement in and commitment to providing a safe, sustainable, and reliable operation.
Maintaining our healthy, robust, and effective SHE Management System (FORUS) is the key to achieving this goal.
To obtain the Victorian MHF Licence, detailed evidence with supporting documentation was provided in the Safety Case submission. The Safety Case summarises the technical, management and operational information about the hazards and risks that may lead to a Major Incident, and the SHE Management System and controls put in place to manage these hazards and risks in accordance with OHS Regulations.
An assessment was performed against the Safety Case submission by an audit team from WorkSafe Victoria along with a parallel regulatory verification review by an MHF Safety Analyst. The breadth, depth and maturity of our Safety Management System were recognised, as well as the value of our SHE Dashboard in tracking its performance.
Following the assessment process, a favourable recommendation was then made to the advisory MHF licensing panel. Supporting this recommendation was historical evidence provided from the regular WorkSafe 'oversight' visits completed during the previous licence period to monitor ongoing compliance and improvement.
All employees and contractors, especially personnel from the maintenance and shift operations, and engineers through to senior management, have contributed to this result.
The Victorian Safety Case document was developed by the Safety Engineering team of Peter Grosskopf, Paul Uhrig and Stuart Hodgson, with assistance from various subject matter experts across operations and maintenance.
Congratulations to the entire workforce for their contribution to achieving this successful outcome.
MHF Licence