NICOLA SHINES IN A FIELD OF MEN
04 December 2020, BOTANY
In a traditionally male dominated workforce, it is a wonderful achievement to have a young woman awarded Apprentice of the Year.

Qenos fourth year Engineering & Instrumentation apprentice at Botany, Nicola Field, has just been awarded IICA's most prestigious award for apprentices.

Nicola is the Institute of Instrumentation, Control and Automation 'NSW Apprentice of the Year'. She has trained in all site workshops across the Qenos Botany facilities.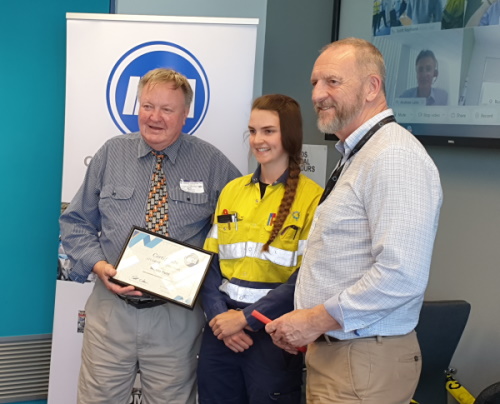 Bill Ebzery, Nicola Field and Paul Cooper
Due to COVID-19 restrictions, a smaller ceremony honouring Nicola was held at Qenos on Friday 27 November in the presence of Ella Averil-Russell, General Manager of IICA, Bill Ebzery of TAFE NSW and Peter Veron of WIKA. Several of Nicola's mentors and colleagues were there to congratulate her as well as representatives of the Qenos Leadership Team attending by Webex.
Presenting the award Bill Ebzery announced "This award is a once in 30 year achievement. Nicola is exceptional and the best apprentice I have seen in 30 years' of working at TAFE and being on the board of IICA."
It is not just an annual award, this status is only given to an apprentice when it has been earned meritoriously. The evaluation period for this award was performed over three years acknowledging the varied work Nicola has been involved in at Botany.
Apart from routine E&I maintenance, Nicola has also spent time learning new skills with mentors Steve Middleton, Alkatuff Reliability E/I Team Leader and Maksym Chamula, Polythene E/I Reliability Manager. A major highlight includes working on the installation of the new generation GC analyser project recently installed at Alkatuff.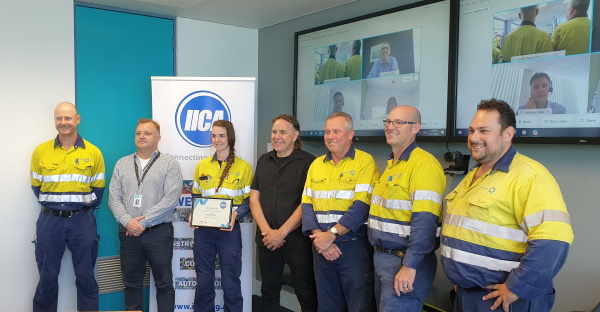 Nicola surrounded by her colleagues and mentors
Qenos is well regarded in the industry as a first rate employer and an organisation which attracts and produces top quality apprentices. For Nicola to achieve this outstanding prominence is an acknowledgment of all her hard work under the guidance and supervision of those concerned.
A surprise highpoint to the ceremony was when Justin Field, Nicola's father, entered the room. Justin, from East Gippsland, was excited to learn that the NSW/Victorian border had just reopened earlier in the week allowing him to secure a flight to be in Sydney for this very proud and emotional father/daughter moment. Justin is also an E&I Technician for Australian Paper in country Victoria and Nicola's brother is also pursuing and E&I apprenticeship!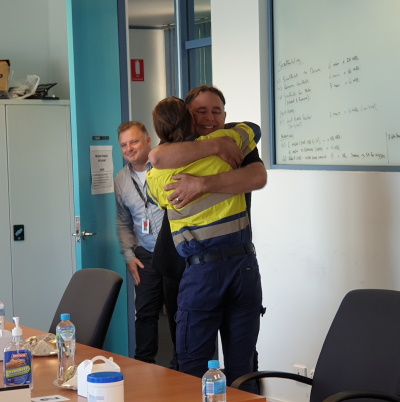 A surprise visit from Dad!
Later in the day Justin said they were all still buzzing from the day's excitement. In a year with so many challenges it was a really bright spot to celebrate.