QENOS ALLSTARS LEND A HELPING HAND
19 December 2018, ALTONA
Each year Bayside Secondary College in Altona North hosts a fundraising soccer match between the best of its Year 9 students and members of the local community (the Allstars).

Tim Watts, the MP for the federal seat of Gellibrand, has taken over the running of this event from Wade Noonan, recently retired Member for Williamstown. Tim captained a team made up of members of his staff, teachers from the school, community members and stars from Qenos.

Registration fees and other donations go to several food banks including the Helping Hand Café who provide meals and food hampers to local families within the Hobsons Bay community.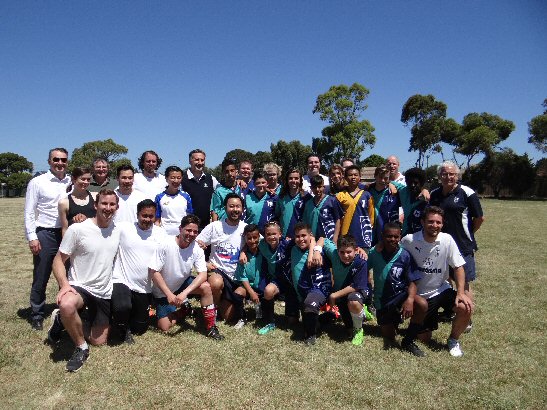 Students and Allstars unite.
This year, the Allstars had the helping hand as the team was coached by former Socceroos captain Steve Horvat (2001-2). After observing the team warmup, Steve was not confident of victory through skill alone, so he instructed them to play a basic game with no tricks.
However the real trick with this game was playing to the wind advantage. First half saw the students kicking with the wind and they used this advantage to score two goals by half time. The Allstars were lacking in structure and the students used their speed and superior skills to take advantage of this.
The second half belonged to the Allstars. An early own goal which was forced on by James Smith (he's claiming it) was followed by two excellent individual efforts by Rabbi Al Muhit to give a 3-2 advantage. Unfortunately, the students ran out of puff before the Allstars and were not able to score another goal so the victory went to Tim and his team.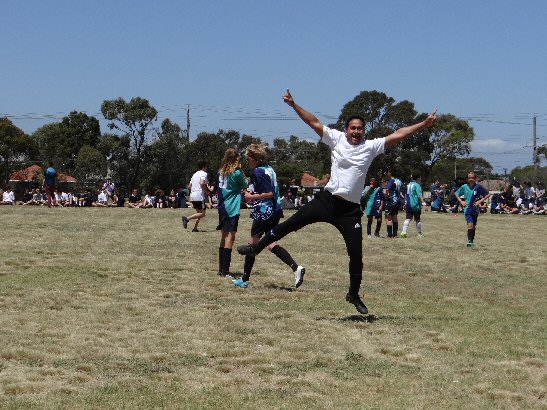 Rabbi Al Muhit following his victory goal.
Best on ground was number 16 for the students, but they all did their College proud with excellent sportsmanship in light of some deliberately questionable refereeing.
Well done to the Qenos team of Anthony De Fanti, Ben Foo, Rabbi and James and to everyone involved in organising the game.
It's nice to be able to help those who help the local community at this time of year.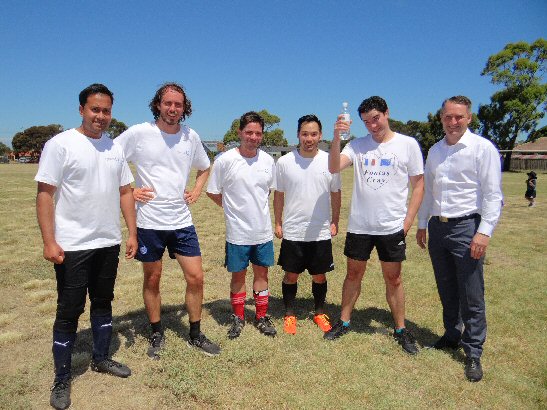 L-R Victors, Rabbi Al Muhit, James Smith, Anthony De Fanti, Ben Foo, Tim Watts MP and Damian Toohey