RECYCLED WATER ON TAP AT QENOS
27 April 2011, ALTONA, VICTORIA

The official launch for Qenos to take recycled water from City West Water's Altona Water Treatment Plant took place on Tuesday 19th April 2011.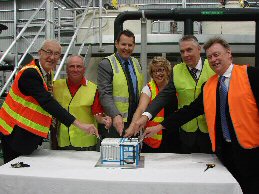 City West Water Altona Treatment Plant launch.
This project, which saw the first sod turned in October 2009 to build City West Water's state of the art facility in Queen Street, has now been completed. It has also involved laying nearly three kilometres of Qenos's own polyethylene pipe grade.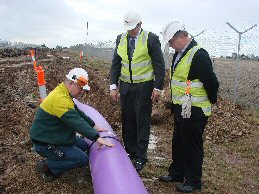 Qenos employees inspect the pipe laying process.
Qenos Chief Executive Officer Jonathan Clancy said "Integrating this major recycled water project at our Altona Olefins site will result in additional savings of up to two billion litres of mains water each year. Along with previous water saving initiatives, our partnership with City West Water continues to enable us to reduce our usage by approximately 85 per cent."
"Water is no longer an endless resource. Everyone has to contribute to its future conservation. As an industry leader, Qenos has, since 2002, been committed to identifying and implementing water saving projects such as this to incorporate the use of waste water for non-potable purposes in our manufacturing processes," added Mr Clancy.
Attached is the Media Release from the Office of The Hon Peter Walsh MP, Minister for Water.
Media Release