QENOS ALTONA EXPANSION
25 November 2010, ALTONA, VICTORIA

Qenos is delighted to announce the investment of up to $195 million to expand and modernise it's manufacturing facilities at Altona in Melbourne, the CEO of Qenos, Jonathan Clancy said today.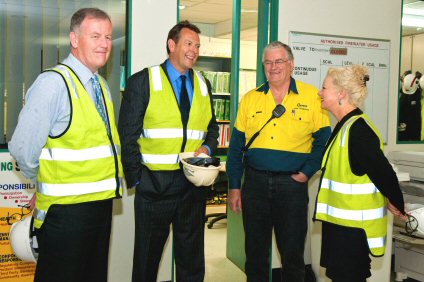 L-R Deputy Premier of Victoria Rob Hulls MP, Jonathan Clancy Qenos CEO, Denis Hargreaves Shift Team Leader and Jill Hennessy MP Local Member for Altona on their recent visit to the Olefins Main Control Room.
"This substantial investment in the Australian plastics industry will position Qenos for future growth and development. It means that Qenos has a long term future which is great news for our employees and the broader community," Mr. Clancy said.
Qenos is the cornerstone of Australia's plastics industry and this project will increase Altona's manufacturing capacity by 20 per cent ensuring it remains competitive in the global market.
"The Altona expansion project will secure 15 years' supply of feedstock worth more than $2 billlion. We add significant value to ethane and LPG to produce polyethylene which is then used to develop a range of high quality plastic products, both domestically and for export," said Mr. Clancy
"For our valued customers, this significant investment will provide benefits through enhanced reliability of supply, coupled with our ability to increase capacity in line with the growth of the Australian polyethylene market, providing a sound base for future growth."
Qenos is also investing in research and development to support new generation pipe resin technology, as well as significant energy efficiency projects. This means developing stronger and more energy efficient plastic products in sectors such as agriculture and mining.
This major investment reinforces Qenos's commitment to the Australian polyethylene market and further strengthens its position as a competitive and sustainable long-term local producer of polyethylene resin.
"In addition, there will also be significant environmental benefits from improved production efficiency, reducing both water and greenhouse gas intensities," Mr Clancy said.
He also said the investment was supported through the assistance of the Victorian State Government.
"We are very pleased that the Victorian Government recognises the value of local manufacturing jobs and is prepared to back Qenos for the long term."
The investment constitutes a strong endorsement of the Qenos business and the Australian industry by Qenos's shareholder Bluestar, a Chinese based international conglomerate, and one of China's largest chemical companies.
Ongoing investment into Qenos facilities across the country will be vital for the company to maintain its leadership position as the largest production centre for plastics and petrochemicals in Australia.