MEET MELISSA
Sales Manager Melissa enjoys travelling and helping customers develop their business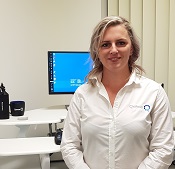 Sales Manager - Melissa
Initially employed by Qenos as a graduate chemist with a Bachelor's Degree in Forensic Science from Deakin University, Melissa has been a part of Qenos since 2007 and has experienced many areas of the business.
In her current role as a Sales Manager, Melissa is responsible for sales in key segments; business development and strategic partnerships with customers. A big focus is strengthening Qenos' understanding of customers' requirements.
"My role is business-to-business sales, where I partner with customers to understand if we have products or services that can assist them in meeting their company goals. We take a holistic approach to sales: harnessing multiple departments to demonstrate our value proposition (range, quality, service and support), and to benefit customers through all our resources."
Qenos has a wide range of products to offer, and being a local manufacturer, Melissa can deliver to customers a level of service that they would not be able to see from overseas suppliers. These relationships are strengthened through technical support, information services, great relationships, and connecting multiple parts of the business. Melissa also maintains strong relationships with internal marketing and technical teams so Qenos can engage cooperatively and cohesively with customers.
"We visit customers with our technical and marketing representatives. There are multiple touch-points for customers throughout our business, and for some of our larger customers, we may engage with them on a daily basis. We also formulate strategies to approach the market – from our customers right through to the end-users and specifiers. Deciding what conferences to attend, who will attend and what presentations we will deliver is pivotal to this."
"One of the attractive things about sales for me is that every day is different, and you can work wherever you are, so you have flexibility in that respect. A lot of time is contributed to interacting with customers and administration activities including developing proposals and working with the broader Qenos teams."
Qenos has been in the polymers industry for more than 50 years, and pipeline opportunities are typically within existing customers, as most customers are long term and established. Therefore, Melissa's role is predominantly focused on relationship stewardship.
"I like that you can move around within the company in extremely diverse roles to progress your career. There are lots of technical people at Qenos. Having technical knowledge has helped me to understand our customers and speak their language."
While Melissa states technical knowledge has been beneficial to have, it is not a requirement to excel in a sales role at Qenos.
"Qenos offers full training, which is a great benefit. If you're looking to grow and develop, there are always opportunities to learn. Everyone here is willing to teach and guide you. We do recommend tertiary qualifications in science, commerce, and engineering, as higher learning enhances your skills in retaining information and conducting research. You need these attributes in a sales role to learn about your customers and to engage with them on a strategic level."
Melissa believes it's the Qenos culture that distinguishes it from other places.
"When we employ people from outside our organisation, they always comment that our people are so nice! It's the people that make the workplace great. You don't always get that everywhere you work. We have great staff retention, there are so many diverse roles and great people to work with."
Melissa has been in a leadership role for close to three years.
"A rewarding aspect of being a Sales Manager is coaching and developing people. When I visit customers with Qenos Account Managers, I provide them with "wins and learns", a feedback process that helps them understand what they did well and where they can learn and develop. It's so rewarding being a part of their career development."
Melissa particularly enjoys travelling to meet her clients face to face.
"I enjoy the ability to travel and visit my customers. There's nothing better than getting to know them on a personal level. It helps you understand their role and business. I also get to experience many parts of Australia, both inner cities and rural locations."
Qenos Account Managers are segmented based on the manufacturing process they represent (for example, Melissa's segments are in pipe extrusion and rotational moulding) and each group travels at different rates.
People are incentivised based on their business unit and Qenos strives to build on their culture of reward and recognition. Some roles are salary-based, others include incentives. Sales employees receive their own phone, laptop and car.
"Qenos managers make a real point of congratulating their team members on great results. This may be a verbal chat or a financial reward, gift voucher, movie tickets or being taken out for a meal."
"What I also really enjoy about Qenos, is that I'm often invited to be part of extra-curricular activities in cross-functional groups, complementary to my base role. For example, in line with Qenos's initiative for continuous improvement, we launched our annual iTransform program, and I was part of the team who set up the platform and stewarded it for the first year. It was exciting because it was an enabler for all of our six sites in Qenos to share what they've been working on, recognise and reward ingenious projects, learn about people doing things that are novel or initiatives that have improved our existing processes. It's delivered excellent results for the company."
Melissa is looking forward to continuing to strengthen customer relationships, on-boarding new staff, and taking on more leadership opportunities in the sales team and broader business.
"You need integrity, a drive for excellence and resilience to succeed in this role. Great communication skills – especially listening – means you can really understand customers' needs and address them appropriately. Whatever stage of your career, it's pivotal to have a willingness to learn and be open to responding to feedback. Particularly in sales, having a competitive edge is important. And generally being a nice person!"
Melissa owns a farm and enjoys horse riding and spending time with friends. She enjoys extra travel in addition to her travelling for work, having a good social life and an active lifestyle through walking and running.