MEET JASON
Meet our maintenance tradespeople: a day in the life of Polythene Maintenance Team Leader, Jason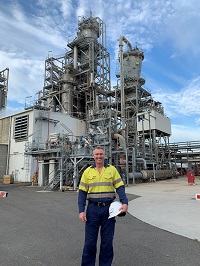 Maintenance Team Leader - Jason
Jason began his career as an apprentice fitter and machinist 30 years ago, gaining a position as part Qenos' apprenticeship program, and has been a part of the organisation ever since.
"During the four-year program, I rotated through our four plants. The plants use different technology and contribute to different parts of our overall business. It's great to have received such a wide variety of experience. We continue to run an apprenticeship program onsite for mechanical and electrical & instrument fitters."
Jason has since progressed his career and is now a Polythene Maintenance Team Leader for Qenos' Alkatuff and Alkathene plants in Botany. He is responsible for looking after fixed equipment, which includes pressure vessels, piping, safety valves and structures. As part of a dayshift roster, he works four days per week, and is on call for one week every five weeks to ensure the plants stay online and manage issues that require attention.
"Our maintenance department ensures the plants run 24 hours per day. In my role, I interact with operators, engineers and maintenance teams. Every day is different. Even though you have standard meetings to manage the plant, production and ensure safety, you never know what challenges will arise that you need to be able to and willing to respond to."
Jason enjoys the job itself, the people he works with and the working environment.
"Qenos encourages people to be self-managed. People know what their responsibilities are, and they do their jobs well. They're also passionate about what they do, ensuring they deliver accurate quality work the first time. We're always trying to improve. It's a great working environment with good conditions. Everyone ensures each other walks out safe at the end of each day."
Qenos value their people as an asset, with strong emphasis on upskilling, safety procedures, good communication, and reward and recognition.
"We have strong retention rates, which means key knowledge acquired over many years stays in-house and delivers back to the company. You know you're working in a safe environment with good procedures and controls in place."
"Qenos seeks and values input from all employees. You can approach anyone at any level. You're not just a number. We have systems that encourage and allow people to provide their input. It's a two-way street. You're rewarded for delivering outcomes that are valuable to the business."
Another aspect of work that Jason enjoys is preparing for shutdowns once per year when the plant is taken offline for maintenance.
"There's a lot of time, energy and effort that goes into it. I have the opportunity to interact with lots of different people who all share a common goal in performing the shutdown on time and within budget, then bringing it back online again safely. You see the results after all our efforts in planning a major project. It's very rewarding."
As a Team Leader for two plants now, Jason is now focused on learning about the new plant he works at and its different technology.
"It will be a steep learning curve over the next few years. You never stop learning! There's a lot of moving parts and different areas to still understand. When you're on call, you're not only looking after your area, but the whole plant. It's great to be able to work in a team environment and having the support that comes with that."
Outside of work, Jason enjoys staying active by working out in Qenos's onsite gym, playing golf and running.