MEET NIGEL
c
From high-school teacher to Hot-End Process Coordinator: meet Nigel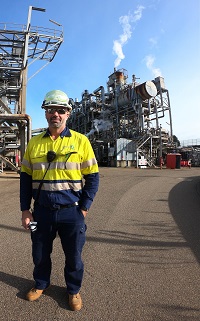 Hot-End Process Coordinator - Nigel
In 2007, Nigel made the transition from high-school teacher to an operator role at Qenos' Olefins Plant in Altona.
"I was an industrial arts head teacher and taught engineering, but I wanted to do something more practical and was ready for a new challenge. I started at Qenos doing shift work as an operator in a process team and went from filling trucks with gas and swinging furnaces to working on DCS panels and became a shift team Leader. I gained all my training on the job."
"Shift work provided me with the work-life balance I didn't have before. I was able to use my time off shift to go on school excursions and assemblies when my daughters were younger, renovate my house and expand upon my passion for mountain biking. It was a really great change from the normal 9-5."
While Nigel had broad experience as part of his degree instead of specialised experience in a trade, having a mechanical aptitude helped him learn technological skills to progress in his role.
He has since moved from shift work into a day role. Now, as Hot-End Process Coordinator, he is responsible for coordinating maintenance with Engineering Team Leaders. Together, they create plans for maintaining equipment and liaising with process teams and contractors. He also arranges risk assessments to ensure safety procedures are in place for maintenance work and coordinates teams to ensure they complete their tasks on schedule.
"I like that most days are different and busy. I'm always looking for different challenges and progression. I've received lots of opportunities for that at Qenos, from taking on a leadership role a few years ago when we were preparing for a major shutdown, to the role I am in now."
Nigel has valued the opportunity to work with like-minded people in different teams.
"Here, you feel appreciated and rewarded. If you go above and beyond, they offer recognition. That's a big way in which I think Qenos is different to other organisations."
Every year, Qenos' parent company Bluestar offers a summer camp for both their direct employees and subsidiary company employees children in Beijing. Nigel applied and was accepted as a chaperone for Qenos employees' children in 2017.
"My eldest daughter attended the Bluestar summer camp and really enjoyed it. My youngest daughter wanted me to try and come with her 2 years later, so I applied and was accepted to be the chaperone that year. We stayed in Beijing and had the opportunity to do many day-tours around the city. We got to experience the Great Wall, the Forbidden City, and the Summer Palace. It was great to experience Chinese culture and see all the kids from so many different countries getting on so well!"
Communication and collaboration is also something that Nigel values at Qenos.
"We all have a common goal. I've worked with a number of different teams at Qenos, and everyone works together to get the job done. I am now working with our engineering teams and am experiencing the way they troubleshoot issues. There's no ego. Everyone always takes a collaborative approach and is free to share their opinion and be heard. I'm proud of that. It's rewarding to be a part of."