MEET TENNILLE
Chemical Plant Technician Tennille enjoys learning and daily challenges at Qenos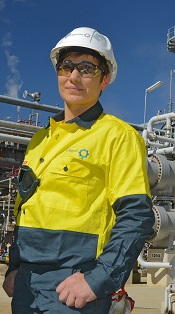 Chemical Plant Technician - Tennille
As a Chemical Plant Technician at Qenos' Olefins Plant in Altona, Tennille enjoys the daily challenges in her role. The skills she gained during her time at a nearby Chlor-Alkali plant, as well as her strong mechanical aptitude and trade in mechanical engineering, meant that Tennille was well-suited to the position.
"You never know what you'll be faced with. We run to our supply of feedstock, which is a constant variable. This can sometimes be challenging, requiring you to make many adjustments within the plant. There's always something different to observe and do. After every shift, I walk away having learned something new."
Tennille is responsible for operating three units: Cracking, Quench and Treating as well as Compression, Refrigeration and Fractionation, and the DCS operating system. Operators work on rotating shifts and Tennille typically works two night shifts and two day shifts per block.
"I rotate between the three units, focusing on one area per block. When working on a unit in the field I am responsible for monitoring and maintaining plant equipment, completing routine tasks, for example swinging a process dryer at the end of run or more complex duties such as taking a furnace off line and carrying out a decoke. Observation of pressures, flows and temperatures are a key part of the process, both in the field and via the control system (DCS). Our main aim is for a steady plant operation, whilst optimising Ethylene yield."
Tennille particularly values the training and learning opportunities that Qenos provides across all levels of the business.
"At other organisations, you can often feel as though you are left to work things out on your own. But at Qenos, there are always so many people willing to assist you and provide you with information or help."
"Coming on board as a Chemical Plant Technician, I received four months of introductory training, which provided me with a great foundation to start running the plant. During the 4 months I undertook 5 weeks of class-based training and 5 weeks of plant based training while working with an experienced operator. After completing an assessment to demonstrate my plant knowledge and understanding of workplace safety, I could run a process unit myself! You're not thrown in the deep end. It's intense learning, but it's great to know they put in so much effort to ensure you're confident in running the plant safely"
Qenos has a strong focus on safety and offers plenty of learning opportunities around this too.
"We receive regular safety training on topics from firefighting and gas monitoring, to how to live and work a "shift life" and stay healthy. Qenos is big on ensuring everyone is educated and trained adequately in both plant operations and safety."
But it's not just the learning opportunities and support that makes Tennille enjoy her work at Qenos; the people are a big part of it too.
"The people I work with are wonderful, both professionally and personally. There are on average seventeen people per shift, and you spend so much time together during the week and on weekends. Being away from my family during night shifts can be challenging, but the people I work with are like an extended family. It's such a friendly and warm environment."
In addition to being a busy mother of three, Tennille also enjoys camping, gardening and caravanning (anything outdoors!). She is also an apiarist and enjoys tending her beehive and sharing honey with her colleagues.