MEET DAVID
David, Shift Team Leader at the Resins Plant, provides his perspective on what it's like to be a Shift Team Leader and what it takes to be a Process Plant Technician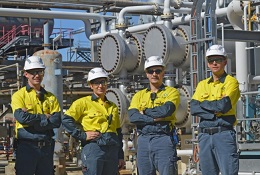 Resins Shift Team Leader - David
I am essentially an interface between maintenance, operations and the lab. I prioritise the work that needs to be completed for the day, ensuring we achieve our goals and meet safety standards. I manage the team, meeting with them at the beginning of the shift to ensure they know the work that needs to be completed.
Shift Team Leaders are more experienced, so I also mentor some of our younger operators, ensuring they are comfortable and understand what they are doing. I like walking them through their responsibilities and seeing them develop and learn.
What do you enjoy about your role?
It's a varied role and you have support on call. I enjoy the troubleshooting side of things and trying to solve problems. There is always something to challenge you.
At the resins site where I work, everyone is always happy to help you out, even if they are busy. Operators on all our sites tend to form close relationships. We're all orientated towards the same goal: seeing Qenos do well.
What do people get out of role with Qenos?
We have great working conditions at Qenos. You also have the opportunity to be involved in a team. Not to mention you're working with a company that is recognised worldwide. As an operator on shift work, I also like having four days on and five days off.
Our organisation has a high standard of work, is safety focused and really cares about people. It's been a great company to work for. We invest a lot in environmental management. Qenos also recognises and rewards peoples' achievements.
You gain a diverse range of interesting skills in operating a plant, for example, gas detecting and monitoring, and how to apply a breathing apparatus. Qenos has always been supportive and offered opportunities for improvement, such as enabling people to obtain certifications.
What advice can you give people interested in attending a Group Assessment Day?
It's important for us to see the way people interact. You certainly don't need to be the loudest person in the group, but can you work as part of a team? Can you get involved and use sound reasoning and logical thinking? Do you have an aptitude for problem-solving and troubleshooting? If so, you might be a great fit.
We also provide opportunities for development and the potential for leadership. So the person who is chosen for this role may progress to being a Shift Team Leader.
What kind of person is best suited to a role as a Process Technician at Qenos?
We're looking for operators who will be troubleshooting and learning new processes. Having a learning mindset is important, so someone who is always looking to continually improve. You can go through all the training and assessments, but there's always so much more to learn.
As operators, we need to be proactively trying to prevent alarms, instead of only reacting when if they do go off. So we're looking for people who want to take ownership of the plant and be proactive. Logical thinking and a mechanical aptitude is also highly beneficial.