MEET STEPHEN
Do you know how Qenos improves the quality of people's lives every day? Our CEO Stephen Bell shares how: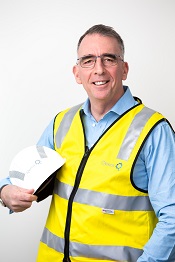 CEO Stephen Bell
At Qenos, people are at the heart of everything we do. CEO Stephen Bell, who has been part of Qenos for more than 30 years, understands this better than anyone.
"As an engineering and technical organisation, we have a fantastic pool of human capability. When people join us, they don't want to leave, and we don't want them to leave!
There are so many opportunities here and our capable people are everything. They share our ethos for continuous improvement, and they maintain our culture of high performance; in fact, it's in our DNA."
Qenos is both collaborative and results-driven, and we value diversity and inclusion. Our technically-talented people are not pigeon-holed, as there are so many opportunities for them to progress their careers.
Stephen explained how Qenos matches the personal aspirations and individual needs of our people with the wider organisational purpose and mission.
"Whether you start in sales & marketing, manufacturing, product technology or our laboratory, depending on your aptitude and interests, you can take your career wherever you'd like. We honour our obligations as an employer, so even if the opportunity you're looking for doesn't present itself, we can set people up in taking the next step in their careers."
Qenos not only values trained and technical skills, but personal attributes too. Our people use sound judgement, straight talk, drive excellence and own the result.
"We look for people with innate human competencies such as strategic thinking, negotiation and interpersonal skills. The people who succeed with us tend to be self-motivated, results-orientated, resilient and persistent with good analytical and problem-solving skills."
When you see or use plastic in your household items and everyday life, chances are they're made from our product. As the nation's leading supplier of world-class polyethylene and polymers, our mission is to drive growth in Australian manufacturing through adding value to Australian natural resources and keeping jobs local. As the sole manufacturer of polyethylene in Australia, Qenos is proud to deliver the plastic products that improve people's lives every day. This is just one of the ways our people gain a sense of purpose from their work.
"We make a meaningful contribution to our Australian community by developing materials that enhance people's quality of life every day. We provide high-performance packaging for key industries such as food and agriculture – if you walk down the aisle in any supermarket, on every shelf you will find products made from Qenos polyethylene. When you turn on the water in your home, our materials made the plastic piping. Even the gas used to heat your water goes through polyethylene piping made from Qenos resin. People who work with us know they're making a genuine contribution and a real difference improving the lives of Australians."
"We're a very supportive organisation. Whenever we're facing a challenge, everyone immediately responds and does what needs to be done. I've seen few organisations react so well. We're very strong on relationships and we balance that with a drive for results."
With backing from global giant, ChemChina, Qenos is a leader and key contributor to all of the key value chains in the Australian economy, and we're excited by the opportunities and challenges ahead of us.