AUSTRALIAN BINS FOR AUSTRALIAN BUSINESS

In an exciting new development, an Australian company is now using Qenos polyethylene (PE) to injection mould large 4 wheel mobile bins – which are ideal for commercial, industrial and high volume residential use.

Australian designed and manufactured by Mastec specifically for Australian conditions, new 1100 litre and 660 litre 4 wheel mobile bins, are the first bins of their type to be injection moulded in Australia. The quality of these bins stems from the basics of quality high density polyethylene (HDPE) manufactured and supplied by Qenos. Designed for strength, toughness, and UV resistance, Qenos HDPE provides the fundamentals for these large bins to pass all relevant performance tests and perform in the field for many years. Mastec is so confident in its 4 wheel mobile bins that, as with all their mobile bins, they provide a 10 year warranty.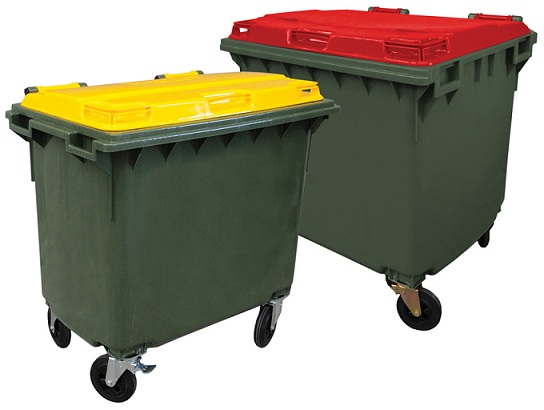 Mastec's Injection Moulded 4 Wheel Bin with Qenos Alkatane HDPE
Australian manufacture of large HDPE 4 wheel mobile bins reverses the trend of manufacturing moving offshore. Historically these bins were imported from Europe or Asia, which meant much less flexibility in supply and product selection for Australian customers. With local manufacture there are shorter lead times, more flexible order quantities and a range of colour and customisation possibilities.
As a local supplier, Qenos has a long history and strong relationships with the Australian plastics industry. Qenos has been working collaboratively with Mastec for many years to provide injection moulding HDPE to meet the tough manufacturing and product performance needs for 2 & 4 wheel mobile bins manufacture in Australia. The Injection moulding HDPE grade supplied from Qenos for this application is tested for performance – tensile, puncture and impact capability. It is also specifically designed for large part injection blow moulding - it features enhanced processability for time, energy and cost efficient manufacture of large items.
Mastec's injection moulded PE mobile bins are available in various colours and are UV stabilized and provide a minimum of 10 years life. The need for long outdoor performance, particularly in an application requiring mechanical performance, is well understood and is backed up by quality processes and testing at both Mastec and Qenos.
Mastec supply PE bins of sizes ranging from 80L to 1100L and understand the rigours the bins face in service. Australian injection moulded PE mobile bins made with Australian PE will be working hard for a long time to come.
Alkatane HDPE Injection Moulding Grades